From time to time, island dwellers at Pine Island step away from the routine of camp life to help with an essential task. They wade into Great Pond and throw rocks from the lakebed onto shore. We call this activity island build-up, and without it Pine Island would slowly lose shoreline to the advancing elements. Giving back is the equivalent of "island build-up" for Pine Island's infrastructure and finances. Without moments of concentrated fortification, the camp's buildings, boats, and financial foundation risks erosion due to rising costs and the need for investments required to preserve this place that means so much to so many. Future generations will benefit from your gifts of time, energy, and financial strength.
As a 501 (c) (3) organization, Pine Island Camp offers many ways for you to contribute to the Camp while also providing substantial tax benefits to you and your family.
A great way to visit Pine Island and pitch in.
Pine Island's annual Sloan Critchfield Memorial Boat Maintenance Workshop is a volunteer event that brings alumni, campers, parents, and friends together to honor the memory of Pine Islander Sloan Critchfield by working to preserve our fleet of wooden boats. Dozens of Pine Islanders have generously given their time during Belgrade's beautiful fall to take part in this event. Everyone who has participated has loved the experience—the sense of accomplishment, the camaraderie, the food, the fall weather, and of course Great Pond.
The work will be varied and includes: working on our fleet of wooden boats—everything from repairing gunnels and dagger board trunks, to the sanding and painting that keep our boats shipshape—light carpentry, painting, cutting firewood, landscaping, and more.
We will provide three excellent meals per day and will be sure that you are comfortable in one of the several cabins on Pine Island. Bring a sleeping bag, a towel, some work clothes, and work gloves and join us for some great times in September on Pine Island.
Volunteers are welcome to come for the day or for the whole weekend. The first meal will be dinner on Friday and the last meal will be lunch on Sunday.
If you're interested in joining us for the Sloan Critchfield Memorial Boat Maintenance Workshop, please contact Sarah at shunter@pineisland.org.
If you can't join us but would like to support the fund that helps us build and maintain our fleet of wooden boats, we welcome your gift to the Sloan Critchfield Memorial Fund.
Annual Fund
Each year the docks go in, the tents go up, and campers from all of the world arrive on the shore of Great Pond thanks to your generous support of Pine Island's Annual Fund. Donations to this fund bridge the gap between camper tuition and our operating costs.
Lovett Scholarship Fund
The A. Sidney Lovett Memorial Scholarship Fund was created over 50 years ago. Since then, hundreds of Pine Islanders have attended camp with the assistance of this fund. Thanks to your continued generosity, the Lovett Fund makes camp possible for 10-12 families every summer.
Annual Appeal and Donor Report
Click here to read the 2023 Annual Appeal letter from Bianca Bell, MD.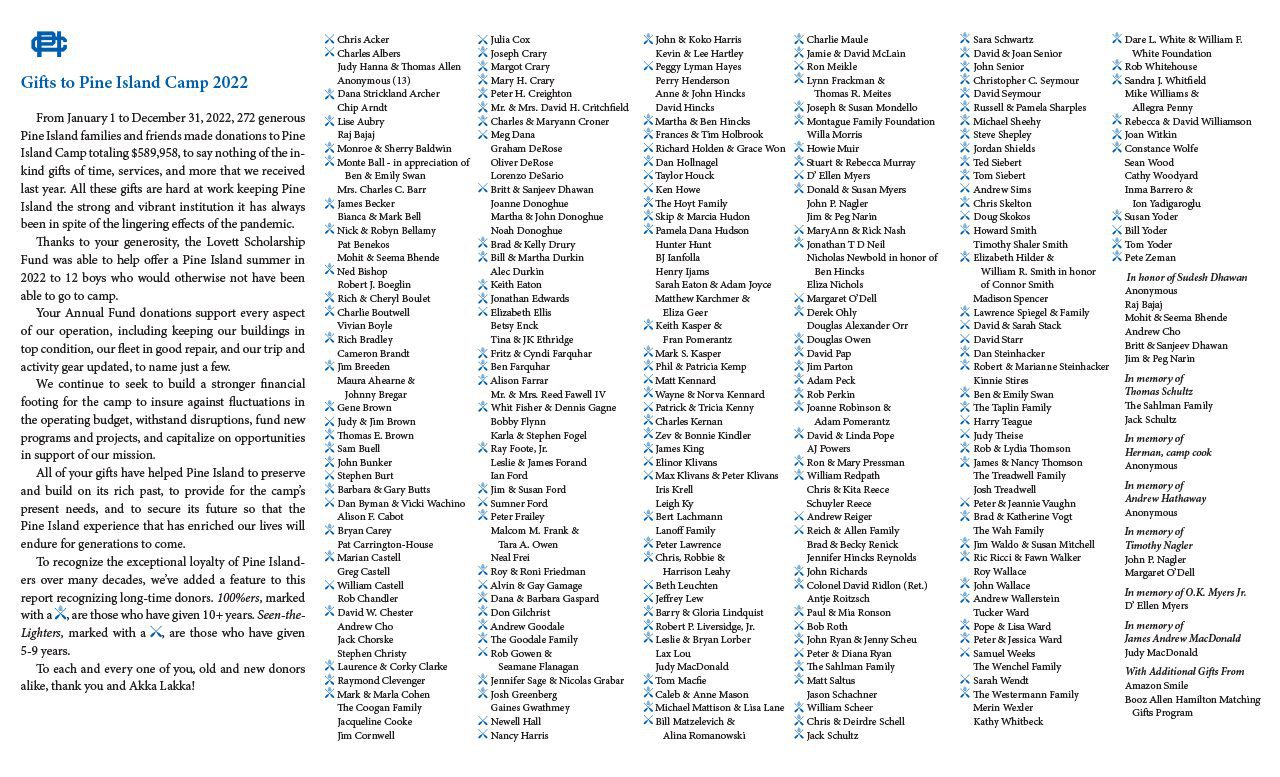 Why an Estate Gift?
Has Pine Island had an outsized impact on your life or on the lives of loved ones? Including a legacy gift for the camp as part of your estate planning can secure the same transformative experience for future generations.
Estate giving provides meaningful support for Pine Island without sacrificing your current financial security.
For a small operation like Pine Island, estate gifts are especially important. They make it possible for camp to build a strong financial foundation, weather disruptions, and capitalize on unanticipated opportunities.
In short, for Pine Island, each gift makes an enormous difference.
Motivations for Giving
Pine Islanders include the camp in their estate plans for lots of reasons. Here are some of the themes we've heard:
As a 'thank you' for the role Pine Island has played in their life or in the lives of loved ones
To make it possible for future generations to experience personal growth at Pine Island
To honor the memory of someone for whom Pine Island had special meaning
To preserve the essence of the Pine Island experience in the face of outside pressures
To maintain support of the camp at a level currently provided through annual fund contributions
To give to a place where a single gift can have significant impact
Give your best to the best you know.
Sid Lovett, Pine Island's First Camper
Planned Giving is not hard
There are as many ways to structure a legacy gift as there are estate plans. A simple way to give is by designating Pine Island Camp as a beneficiary of a portion of funds from a life insurance policy or a retirement plan. That can be accomplished without a will in place. You can also include Pine Island in your will in the form of cash or securities, which are easy to transfer. However, many donors have tax considerations or concerns about taking care of loved ones that warrant giving solutions with a bit more complexity.
Luckily, you don't have to be an expert. Estate planning advisors can turn your legacy aspirations into a plan. If you need help finding advice, we can help.
We are deeply grateful to those willing to include us in their estate plans.